Hayden's first official race saw him and his mother Cheyanne travel to Brimacombe in Orono Ontario for the Durham Region 2019 Ontario Parasport Games held the weekend of Feb 8 – 10, 2019.
Hayden was paired up for the first time with guide Anneliese Surmann from Barrie Ontario.  After the initial introductions and some quick familiarization training it was time to get down to business.
Saturday's event – and Hayden's first race ever – was the Giant Slalom.  As Hayden described it, the gates were further apart and he could go faster than during Sunday's more technical Slalom event.
Anneliese led Hayden through the gates at a blistering pace, pushing harder and faster than Hayden had ever skied before.
When asked how he liked going that fast, Hayden smiled and said, "It was fun!"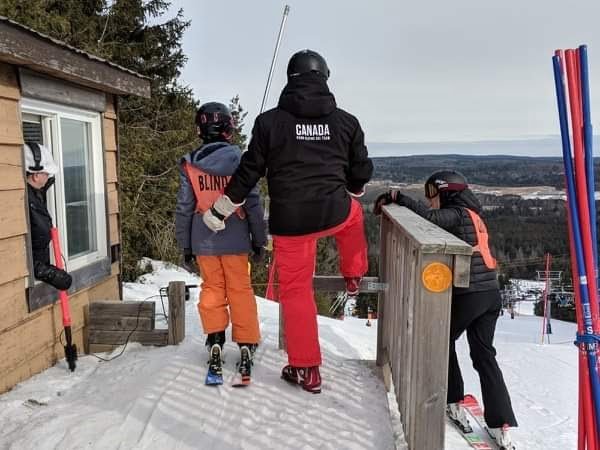 Shortly after the race the competitors assembled for the awards ceremony.  
Beneath a brilliant sunny sky, Anneliese and Hayden's names were called as the Standing Division's bronze medalists!  
Cheyanne couldn't have been prouder of the moment, unable to speak as she wiped tears from her eyes.
This was the culmination of 5 years of lessons, packed lunches, thermoses of hot chocolate, cold toes and trips to the local ski hill.  
Hayden's smile was matched by Anneliese's.  It was obvious to all in attendance the two athletes had quickly and permanently formed a bond which can only be known by a guide and their visually impaired partner.
Sunday's Slalom event, during which the gates were positioned closer together and tested the athletes' carving abilities, saw a return to the podium and another bronze medal awarded to the pair.
With a passion for racing now firmly in place, Hayden looks forward to his next event.